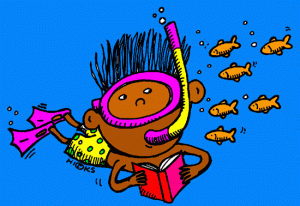 Highly Recommended Books for Anytime Reading:
Aliki. William Shakespeare and the Globe. Gr. 1-5
Amato, Mary. The Word Eater. Gr.3-6
Bruel, Nick. Bad Kitty. Gr. K-2
Cameron, Ann. More Stories Huey Tells. Gr. 1-4
Carroll, Lewis. Alice in Wonderland and Through the Looking Glass. All Levels
Choldenko, Gennifer. Al Capone Does My Shirts. Gr. 5
Collins, Suzanne. Gregor the Overlander. Gr. 4-5
Creech, Sharon. Love That Dog. Gr. 4-5
Cronin, Doreen. The Diary of a Worm. Gr. K-3
Curtis, Christopher. Bud, Not Buddy. Gr. 4-5
Dahl, Roald. James and the Giant Peach. Gr. 3-5
DiCamillo, Kate. The Tale of Desperaux. Gr. 4-5
Divakaruni, Chitra. The Conch Bearer. Gr.3-5
Duprau, Jeanne. The City of Ember. Gr. 4-5
Feiffer, Jules. I Lost My Bear. Gr. K-5
Falconer, Ian. Olivia. All Levels
Gerstein, Mordicai. The Man Who Walked Between the Towers. All levels
Henkes, Kevin. Lilly's Purple Plastic Purse. Gr. K-2
Hill, Kirkpatrick. The Year of Miss Agnes. Gr. 3-5
Jenkins, Steve. Actual Size. Gr. K-5
Kalman, Maria. Fireboat: The Heroic Adventures of John J. Harvey. Gr. 1-5
Kerley, Barbara. The Dinosaurs of Waterhouse Hawkins. Gr. 2-5
Lewis, C.S. The Lion, the Witch, and the Wardrobe. Gr. 4-5
Lin, Grace. The Year of the Dog. Gr. 3-5
Lowry, Lois. Gooney Bird Greene. Gr. 1-3
Martin, Jacqueline. Snowflake Bentley. Gr. 1-4
Pennypacker, Sara. Clementine. Gr. 1-4
Rathman, Peggy. Officer Buckle and Gloria. All Levels
Sabuda, Robert and Reinhart, Matthew. Encyclopedia Prehistorica: Dinosaurs. All Levels
St. George, Judith. So You Want to be President. Gr. 2-5
Spinelli, Jerry. Wringer. Gr.4-5
Taback, Simms. Joseph Had a Little Overcoat. Gr. K-1
Wick, Walter. A Drop of Water. Gr. 3-5
Willems, Mo. Knuffle Bunny. Gr. K-1
Zelinsky, Paul. Rapunzel. Gr. 2-5
Happy Reading!!!!!!