Principal, Mrs. Mitidieri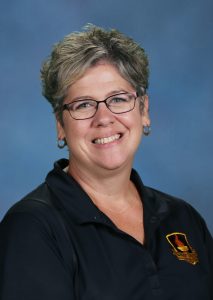 Mrs. Mitidieri is beginning her 27th year in Education. Originally from New York, she received her BA in Elementary and Special Education from St. Joseph's College, a MSEd from SUNY New Paltz in TESOL (Teaching English to Speakers of Other Languages) and a Certificate of Advanced Study in Educational Leadership.
Mrs. Mitidieri has been a school administrator for 13 years. Mrs. Mitidieri is proud to be an administrator in St. Johns County, having led  The Webster School and Wards Creek Elementary. Prior to that, she was the Principal at Suwannee Intermediate School in Live Oak, Florida.
Mrs. Mitidieri has an unwavering belief that all children can learn and grow. She believes in inspiring both children and adults to work to their fullest potential.
Assistant Principal, Mrs. Christi Thomas
Mrs. Thomas has an array of experience in education from Pre-kindergarten through Fourth grade in five states!  She earned a Bachelors of Science in Education from the University of Georgia in 1997 and a Masters in Educational Leadership from the American College of Education.  She is also Gifted and ESOL endorsed.  She comes to us from Mill Creek Academy and is honored to now be a member of the Crookshank community!  Her educational philosophy centers on having the highest of expectations for each and every student.  Her goal is to create lifelong learners that positively impact the community with strong character and leadership skills.
Assistant Principal, Mrs. Gwendolyn Kling
I started my career in education in 2009. Since then, I have been an elementary school teacher, and an Assistant Principal in Duval County (including Title 1 schools). I have a Bachelors of Science in Education from University of North Florida, and received my Master's degree in Educational Leadership from Nova Southeastern University. I am thrilled to bring my knowledge and experience to St. John's County  and  am especially excited about my assignment to John A. Crookshank Elementary School.  I have personally been a member of this community for 7 years, and am excited to be part of the administrative team.  I have a passion for educating children and believe that all students can achieve. I look forward to meeting you all in August, and know it will be a wonderful year.