Principal, Mr. Jackson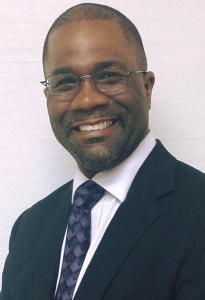 Mr. Jackson is very excited to continue as the Learning Leader at our school. He has thoroughly enjoyed his 20+ years of service in education from PK-12 as well as at the college level. He began his career as a high school math teacher in Florida and North Carolina and went on the serve as an adjunct college instructor at Tallahassee Community College and Pitt Community College (NC). He continued his career as a high school assistant principal and was promoted to PK-8th Grade Principal in North Carolina. Mr. Jackson joined the St. Johns County School District in 2013 as the Coordinator for School Services/Facilities Planning and Growth Management. He was promoted to assistant principal at Ponte Vedra High School, and in 2015, joined the team at Fruit Cove Middle School to serve as assistant principal. Mr. Jackson has served as the principal at John A. Crookshank Elementary School since 2017.
Mr. Jackson graduated from Stanton College Preparatory High School in Jacksonville and went on to earn his Associates in Arts degree from FCCJ and his Bachelors of Science in Secondary Math Education from Florida A & M University in 1998. In 2009, Mr. Jackson was awarded his Masters in School Administration degree from East Carolina University (ECU). He returned to ECU to earn his Educational Specialist degree in Educational Administration and Supervision in 2011.
Mr. Jackson has been happily married to his college sweetheart Trischee for over 20 years. He stated that he feels extremely blessed and honored to serve as principal at John A. Crookshank Elementary School. He enjoys working with the students, parents, faculty, staff, and community partners and is committed to collaborating with all of the school's stakeholders in taking John A. Crookshank Elementary School to the next level of excellence.
Assistant Principal, Mrs. Christi Thomas
Mrs. Thomas has an array of experience in education from Pre-kindergarten through Fourth grade in five states!  She earned a Bachelors of Science in Education from the University of Georgia in 1997 and a Masters in Educational Leadership from the American College of Education.  She is also Gifted and ESOL endorsed.  She comes to us from Mill Creek Academy and is honored to now be a member of the Crookshank community!  Her educational philosophy centers on having the highest of expectations for each and every student.  Her goal is to create lifelong learners that positively impact the community with strong character and leadership skills.
Assistant Principal, Mrs. Yvette Cubero-Gonzalez
Mrs. Cubero-Gonzalez has enjoyed 16 years of service in the educational arena as a Primary and Intermediate Teacher, and most recently as an Instructional Literacy Coach. She earned her Bachelors of Arts in Education, with a focus on Elementary Education and ESOL from Florida International University in 2004. In 2016, Mrs. Cubero-Gonzalez was awarded her Masters in Educational Leadership from UNF. She was born and raised in Miami, Florida and relocated to the Jacksonville area in 2007 with her husband and two children. She has been a St. Johns County teacher leader for 10 years and feels lucky to be part of the Crookshank family. Her educational belief is that given high expectations, the right educational environment, and encouragement, every child can be a successful learner and contributor to their community.