Principal, Mr. Roach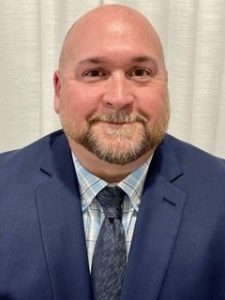 It is with great pleasure and enthusiasm that I write this as the new principal of John A. Crookshank Elementary School. It is truly an honor to have this opportunity. I look forward to immersing myself completely in our school and in the community. Even though I have only had limited interactions with the faculty and parents thus far, it's abundantly clear that CES has a rich tradition that I am incredibly excited to become a part of.
I come to you with 27 years of experience in education. I spent 14 years teaching social studies at the middle & high school levels, two years as a K – 8 Dean of Students, four years working with the Florida Department of Education – Office of Communications, and most recently, for the last seven years, I have served as an Assistant Principal at both Woodland Acres Elementary in Duval County and Timberlin Creek Elementary in St. Johns County. When I am away from school, I enjoy spending time with my wife and two children. I love cooking, camping, and watching football, specifically the Green Bay Packers and Notre Dame Fighting Irish.
I believe that every child has the ability to experience success and that success is accomplished through innovative teaching and strong family engagement. As we continue to provide academic experiences for our students that are rigorous, relevant, and build relationships, as your Principal, it is important to me that everyone who steps through our doors; staff, students, and parents is excited to be here! We will do our best to ensure that our students have a fulfilling, happy, and safe year. I look forward to meeting all of you and please do not hesitate to contact me with any questions, concerns, or ideas you would like to share.   PAWS UP!
"Education is not the filling of a pail, but the lighting of a fire." – W.B. Yeats
Assistant Principal, Mrs. Christi Thomas
Mrs. Thomas has an array of experience in education from Pre-kindergarten through Fourth grade in five states!  She earned a Bachelors of Science in Education from the University of Georgia in 1997 and a Masters in Educational Leadership from the American College of Education.  She is also Gifted and ESOL endorsed.  She comes to us from Mill Creek Academy and is honored to now be a member of the Crookshank community!  Her educational philosophy centers on having the highest of expectations for each and every student.  Her goal is to create lifelong learners that positively impact the community with strong character and leadership skills.