Mission
"Instilling values, Inspiring life-long leaders."
Vision
Our vision at John A. Crookshank Elementary is to showcase every student as an independent thinker, high achiever, and confident leader.

School Improvement Goals

This year at Crookshank we have four major areas that we would like to focus on as a school!

1. Reading : All students will meet or exceed grade level benchmarks as measured by STAR / Early Literacy for each quarter.

2. Math: All Students meet or exceed grade level benchmarks.

3. Leadership: All students, classrooms and Parents will exhibit leadership through quarterly (5) data tracking, Success Meetings and community projects.

4. Parent Involvement: All parents/ guardians / teachers will enroll in PTA by October 24th All parents will attend their child's quarterly data chat. All parents will not earn more than 2 unexcused TD per quarter All parents will not earn more than 2 unexcused absences per quarter.

Immunizations and Physicals Available
St. Vincent is offering FREE immunizations, school physical and sports physicals to children ages 4-18. Participants will need an updated shot record.
Where: Ketterlinus Elementary School (67 Orange Street)
When: Tuesday, July 12th and Tuesday, July 19th, 9am-3pm
Contact Information: 904-547-7628

Our OCTOBER Newsletter is here!  Please click to see October 2016!
School Access Form
In a continuing effort to provide safety and security to our students and staff we ask that you complete a School Access Form if you plan to enter a facility in the St. Johns County School District. This includes if you would like to participate in activities such as birthday parties for your child in their classroom, eating lunch with your child in the cafeteria, field trips, book fairs, field days, as well as readers, tutors, mentors, etc.

---
Full-Day Tuition Free Pre-K Program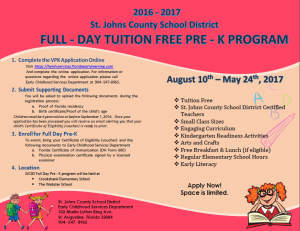 PROPOSED CALENDAR COMMENTS-  The St. Johns County School District is seeking comments on the proposed calendars for both the 2017-2018 and 2018-2019 school calendars.  The survey links can be accessed at www.stjohns.k12.fl.us/calendar/proposed/ or under "Featured Links" on the school district home page. Individuals are encouraged to submit any ideas, suggestions or concerns about the proposed calendars.  Feedback will be collected through Monday, October 3.  The final proposed calendars must be approved by the School Board.
Character Counts at Crookshank
Look at the Progress of our NEW building!

–

Kindergarten Registration is now officially open for the 2016-2017 school year to ALL families living in the Crookshank area. If you are a parent or guardian of a child who will be entering school in the fall, please bring the following documents for registration purposes:
1. Child's Official Birth Certificate
2. Social Security Card
3. Complete immunizations/ Shot Records
4. Current Physical
5. Three Proofs of

Please mark your calendar for school to begin on August 10,2016! For more information please contact Lisa Cogar at (904) 547-7846